Coffee Corner
Coffee Corner Information/ Business Hours / Menu
Coffee Corner Information


Coffee Corner
How about a cup of coffee at our lounge between meetings, or just to chat with your friends?
We have a wide variety of snacks and sweets as well, such as cookies, ice cream, and more. Stop by any time!
Our coffee corner is on the 1st floor of FIA Plaza.
※ Please try our delicious breads and pastries.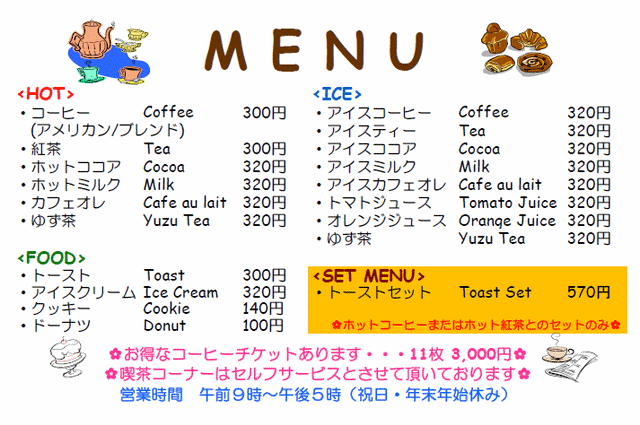 We also have delivery service for meetings, etc.
Hot coffee or hot tea will then cost you 250 yen, usually 300 yen for each.
※ We deliver to the facility you are using.
(Payment can be made through a bank transfer at a later date.)
We have started courtesy service for your eco-friendly activities!

We have started discount service for beverages at the coffee corner for those who use FIA Plaza and kindly gather and bring PET bottle caps to us.
Small bottle caps are nothing but garbage when mixed with other trash.
However, when sorted, they become new resource. Why don't you join this small eco-friendly activity which gives you small but nice profit!

For individuals, the number of PET bottle caps we accept are more than 30 at a time.

We serve you any beverage you like for 150 yen per one drink at the coffee corner of FIA Plaza.
※
PET bottle caps you collect will be utilized for those children around the world who cannot get vaccinated through "Eco project head office" of Fukui Television Broadcasting Co.,Ltd.
※
The purpose of collecting PET bottle caps is recycling resource.
Therefore, please do not buy unnecessary PET bottle drinks to collect many bottle caps.
※
Please bring the bottle caps you collected to the coffee corner in FIA Plaza.

Notice

As these PET bottle caps will be recycled, please only bring clean and dry caps.
Also please note that only caps from plastic drink bottles (soft drinks, tea, water, etc) will be accepted.