Neighboring Facilities
Access Map / Parking
※ 20 minute walk from JR Tsuruga Station.
※ Take bus number ②,⑤,⑥,⑩, or ⑰ and get off at "Kagura-cho".
※ 6 minutes from Tsuruga IC.
※ Aquatom parking: There are 40 parking spaces available (as there is a limited amount, please use public transportation if possible).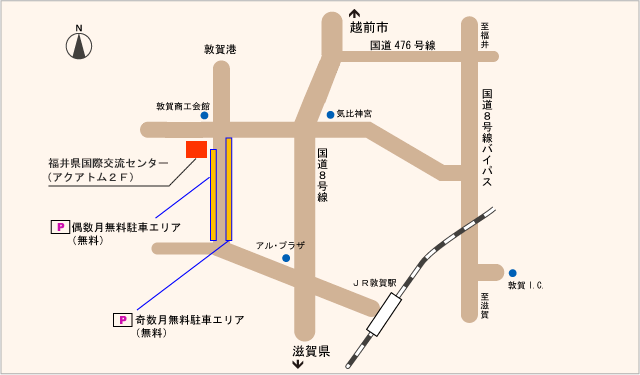 ※The portion of the map marked with diagonal lines denotes where public parking is available.
Please use public parking responsibly. When using public parking, please make sure to avoid inconveniencing the stores and residents in the area.
Parking in the charge-free parking area is prohibited during the period from Nov 15th to March 15th. Please make note of this when planning to travel to the Reinan Center by car.
Guide to the Vicinity
Restaurants
Restaurants